Full Service. Less Than a 1% Listing Fee.
Hire an experienced full-service listing agent for the sale of your home from start to finish — all for a flat listing fee of only $2,995*
Austin area homeowners save over $9k in commission fees, on average. When you do the math, this is an even better deal than a 1% agent.
Smart Money-saving Service
Save over 70% in listing commission fees, when compared to a traditional 6% listing agent. You can successfully sell with a full-service agent AND save thousands in fees.

Meet Jason
Hi, I'm Jason White — an Austin native who's been selling residential real estate in Austin since 2003.
Why am I offering to list your home for a flat fee of only $2,995?*
It's simple: I believe the cost to sell your home in Austin with a traditional 6% Realtor is completely overpriced, especially as property values continue to rise and technology increases real estate agent efficiency.
Why Hire Me?
Over 15 years of experience
Enjoy a hassle-free full service listing from start to finish
Feel confident that the sale is in the hands of a local and experienced listing specialist
What's Included
I offer everything you would expect from an experienced full service Realtor – and more:

✓ Pay nothing upfront
✓ 100% satisfaction guarantee
✓ No hidden fees
✓ Local agent expertise
✓ Realtor MLS listing
✓ Expert listing price guidance
✓ Beautiful HDR photography
✓ Home staging guide
✓ Optional video tour
✓ Social media ads
✓ Electronic key lockbox
✓ Proven marketing plan
✓ 7 days a week agent support
✓ Contract negotiation
✓ Closing support
✓ Showing feedback
✓ Convenient eSignature platform
✓ Realtor yard sign and color flyers
✓ Personalized service
✓ Closing statement review
✓ Seamless communications

…all without the high 6% listing commission!
Commission Fees
What are most homeowners paying a real estate agent to list their home? 6% is what most sellers are paying. For example, to sell a $400,000 home with the traditional 6% fee is $24,000. Let's say that again…TWENTY FOUR THOUSAND DOLLARS. That's insane! And where does that money go? Well, half goes to a buyer's agent and the other half to the listing agent. What about a 1% listing? With the same $400,000 home a seller would pay a 1% agent $16,000…a tangible improvement. Now, how does my flat fee listing service stack up? You will save over $10,000 in commission fees when compared to the 6% agent and over $2,000 when compared to a 1% listing.
The good news is that you have options.
Compare
Save over 70% when you use this new flat fee listing service starting at just $2,995*: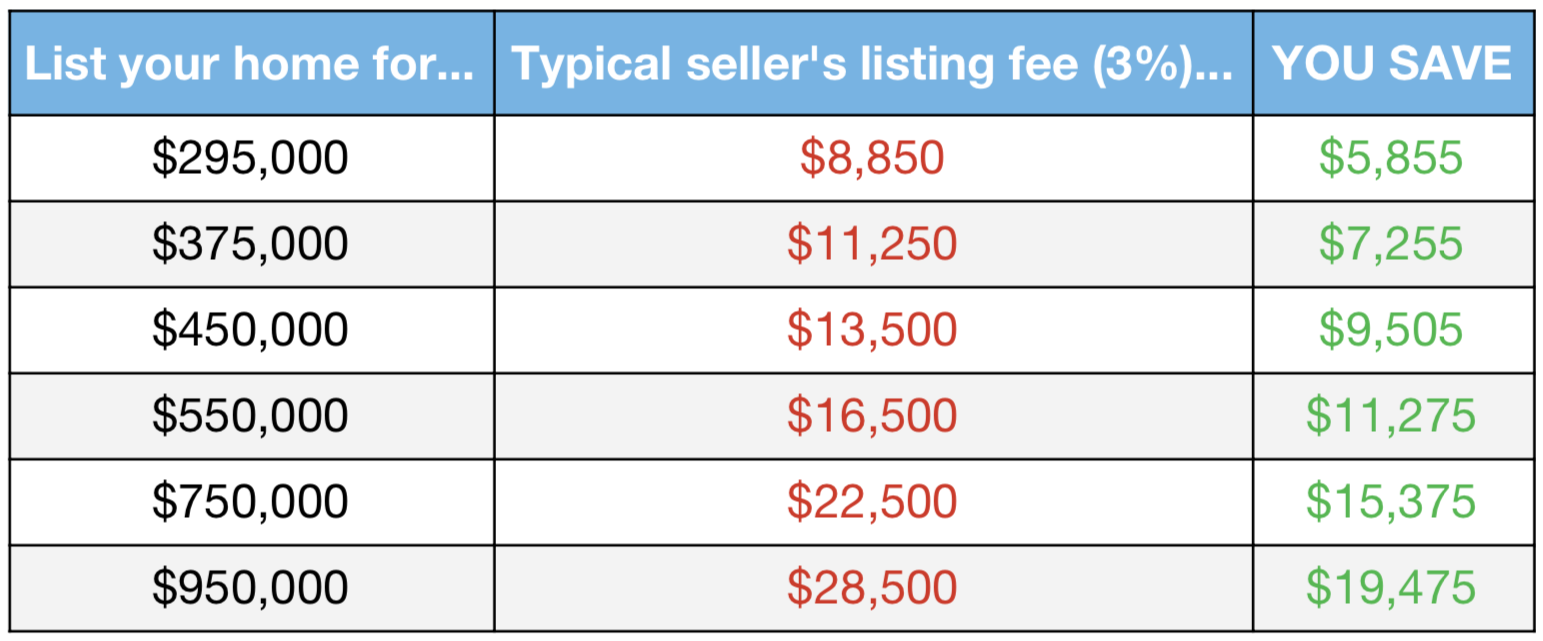 *2.5% buyer's agent commission is not included. Property list prices under $300k have a flat listing fee of $2,995. Property list prices $300k-$499k have a flat listing fee of $3,995. Property list prices $500k and above have a 0.95% listing fee. Fee paid at closing. Want to know what your home can sell for? Get a free market report >
Reserve Your Spot
Some real estate agents list as many homes as possible. Not here. To ensure a high level of service for my clients, I only accept 5 new clients each month.
Client Testimonials
"Jason recently represented me on the sale of my condo in Austin, TX. His attention to detail, his follow up on outstanding items, and his calm demeanor were exactly what I needed in an agent. I've bought and sold many times in different states and in different markets. I've worked with many agents and Jason is the by far the very best I have worked with. I won't hesitate to use Jason's services next time I buy or sell. The flat rate to list comes with an incredible array of experience and professionalism." – Patricia D.
"Working with Jason on the sale of my home was a breeze! He explained everything throughout the selling process and dealt with everything with an appropriate sense of urgency, and with everyone involved with utmost diplomacy. He is highly knowledgeable and available…" – Alma C.
"Thanks again for all of your help – this has been a great experience. I checked out your website and have a LOT of respect for your business model. I won't bore you with my opinions about the industry, but I think a model like yours is absolutely the future. I will absolutely be passing your info along to any friend I have who is thinking about listing their house." – Brian T.
Service Area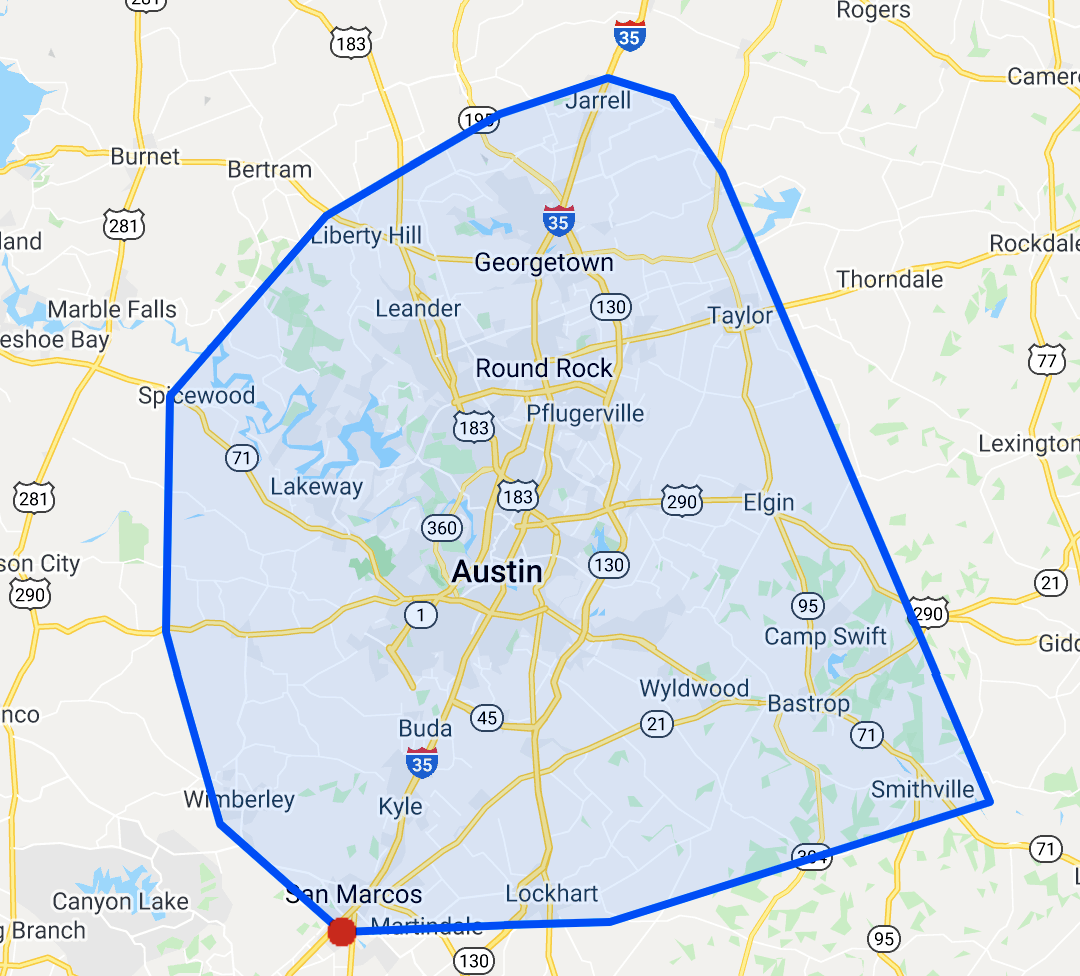 Experienced
You've found an experienced listing specialist that Austin area homeowners have trusted to sell their homes since 2003. You get full service from a local professional and keep more money from the sale.

Experienced, local, satisfaction guaranteed.
Want to learn more?
See FAQs >

What is a Listing Agent?
The simple way to think of it is a listing agent is a real estate agent who represents the homeowner, markets the property for sale and negotiates the sale terms.
Listing Agent vs Real Estate Agent
The terms are synonymous with each other. A listing agent is a real estate agent who represents a property owner for the sale of real estate.
What Does a Listing Agent Do?
A real estate agent works on behalf of a property owner. The primary scope of work is to advise their client about the marketability of the property, provide guidance for a suggested list price, market the property through various sales channels, negotiate price and contract terms as well as assist with closing and communications.
Learn more about flat fee MLS listing service >