Q: Is there anything that I need to be aware of that is not included in your flat fee MLS service? (e.g. closing support, contract negotiation, etc.)
A: That's a great question. Glad you asked. In short, everything is included with my flat fee MLS listing that you would expect from a full-service MLS Realtor — just without the high commission.
Q: Do you charge extra for a sign, lockbox deposit, photography, professional CMA, flyer box, etc.?
A: Yikes! Not at all. What makes my service different is the price that you see upfront is the price you pay for the listing service – no surprises. My low flat fee is inclusive of everything that you mentioned. Best of all – you pay nothing upfront.
Q: Who chooses the list price of my home?
A: This is a common question. Unfortunately, some flat fee MLS service providers will attempt to persuade you to list your home at the low end of your home's market value since you are saving thousands in listing commission fees. Frankly, I feel this is a disservice to you. Why go through the hassle of working with a broker who lives and works remote hundreds of miles away to just net about the same amount of money at closing as using a more convenient local agent?
The good news is that I will personally meet with you and provide you with accurate sales data and advice for successfully selling your home for top dollar in the timeframe that is right for you.
Here's a brief story about one of my recent flat fee listing clients…..I represented a homeowner by the name of Brittany. Brittany was relocating out of state for her employer. She contacted me to list her condo. We quickly generated substantial interest in her 1 bedroom residence and secured a sales contract after only 1 day on market. We successfully closed and her residence was the highest sold price for a 1 bedroom in the community – EVER…and the best part…Brittany received thousands of dollars more than she was expecting AND saved over $7,400 in listing commission fees. Let's just say Brittany was very happy. While the result is not typical for all clients, this is just one example of the results that I deliver.
Inclusive with my flat fee listing service is a comprehensive real estate market overview (macro and micro view) as well as Comparative Market Analysis (CMA). You are in full control of the list price and my market analysis will provide insight to empower you to make that decision.
In short, you are in full control of the list price and my flat fee listing service utilizes industry and marketing best practices which enable you to sell for a price that you will be satisfied with.
Q: Is my listing agent local?
A: Yes! The benefit of using my flat fee MLS service is that you know exactly who you are hiring — an experienced discount Realtor and 20 year Austin local who will be your primary contact person from start to finish.
Q: How long have you been selling real estate?
A: I've been selling residential real estate, in the Central Texas area, since 2003.
Q: Can you tell me about your company?
A: Absolutely. Central Metro Realty is a locally-owned Austin real estate brokerage, established in 2008. Our brokerage of over 200 licensed agents has a strong market presence in Central Texas generating buyer demand for our listings.
When you choose my flat fee MLS listing service, you also benefit by having the support of my carefully selected team of Buyer Specialists who are available, 7 days a week, to show your home and respond to buyer inquiries.
We utilize industry best practices and technology for an efficient and seamless selling experience.
Q: Do I pay upfront?
A: You pay nothing to get started with your flat fee MLS listing.
Q: What websites will my house be listed on?
A: With our MLS listing syndication, your home will reach a large audience of active buyers on websites such as: Zillow, Trulia, Realtor.com, Homes.com, Homesnap, AustinHomeSearch.com, Redfin, RE/MAX, Keller Williams, Coldwell Banker, Sotheby's, Century21, MSN Real Estate, AOL Real Estate, and thousands of individual Realtor websites.

Q: Does my home stay on the market longer with a flat fee MLS service?
A: No, because you are getting the same level of service as you would with a traditional 6% full service Realtor, it does not have any additional impact on the days on market. However, the usual factors such as market demand, location, price and condition still apply.
Q: Are other brokers and Buyer Agents, outside of your company, able to show my home?
A: Yes! We advertise your home in MLS and all area Realtors and Brokers have access to show your home to their buyer clients.
Q: How is this different from a national 1% listing service?
A: Cost — In most cases, a 1% listing fee is more costly than my $2,995 flat fee MLS listing service. In fact, some 1% brokerages will require you to work with them to purchase a home, for eligibility of the 1% listing fee rate. Wow, what a hassle. My flat fee MLS service costs less and saves you the headache.
Local knowledge — Each local housing market is unique. A national service does not provide you with local real estate knowledge or support. A 1% listing agent may live hundreds of miles away…how are they familiar with your neighborhood? It's to your advantage to hire a local agent who lives and works in the Austin area, understands the neighborhood lifestyle, the needs and trends among local buyers, and has firsthand knowledge of competing properties in the area.
Experience — 1% brokerages may have listing agents with significantly less experience than 15 years. Learn more about my background >
Communication — Many 1% brokerage business models utilize several administrative assistants who are juggling client files and as a result you are passed off to several people throughout your home sale transaction. Communication silos, rehashing conversations, and forwarding emails can be frustrating. With my service, I am your primary point of contact, from start to finish, providing seamless communication and a more pleasant selling experience.
Q: How is this different from an MLS listing service?
A: An MLS listing service is geared more toward the DIY "for sale by owner" crowd who want to list their home on MLS a la carte and are not working with or being represented by a broker. My flat fee MLS service is full-service broker representation handling all aspects of the sale, including but not limited to the MLS listing.
Q: How long is the listing agreement for?
A: Good news. You are not trapped for 6-12 months, unlike many traditional 6% brokers. You can feel at ease, when working with my team, knowing that we offer a 100% satisfaction guarantee. For most single family homes, the listing agreement term is 90 days and I am confident that I can sell your home quickly and at a fair market price. The listing term is specific to your neighborhood and price point and is intended to allow a reasonable amount of time allowed for exposure on the open market.
On average for 2019, my listings received an acceptable offer within 17 days on market.
With my flat fee listing service, you have the freedom to cancel the listing agreement for a nominal fee of $795 (which helps cover some of our upfront marketing expenses and time investment for your listing). If you decide to relist with me at a later date, the $795 will be credited back to you at closing. I believe in full transparency when we work together, from start to finish.
Q: My home is in Round Rock. Do you list outside of Austin?
A: Yes, we do! Here is a service area map for easy reference.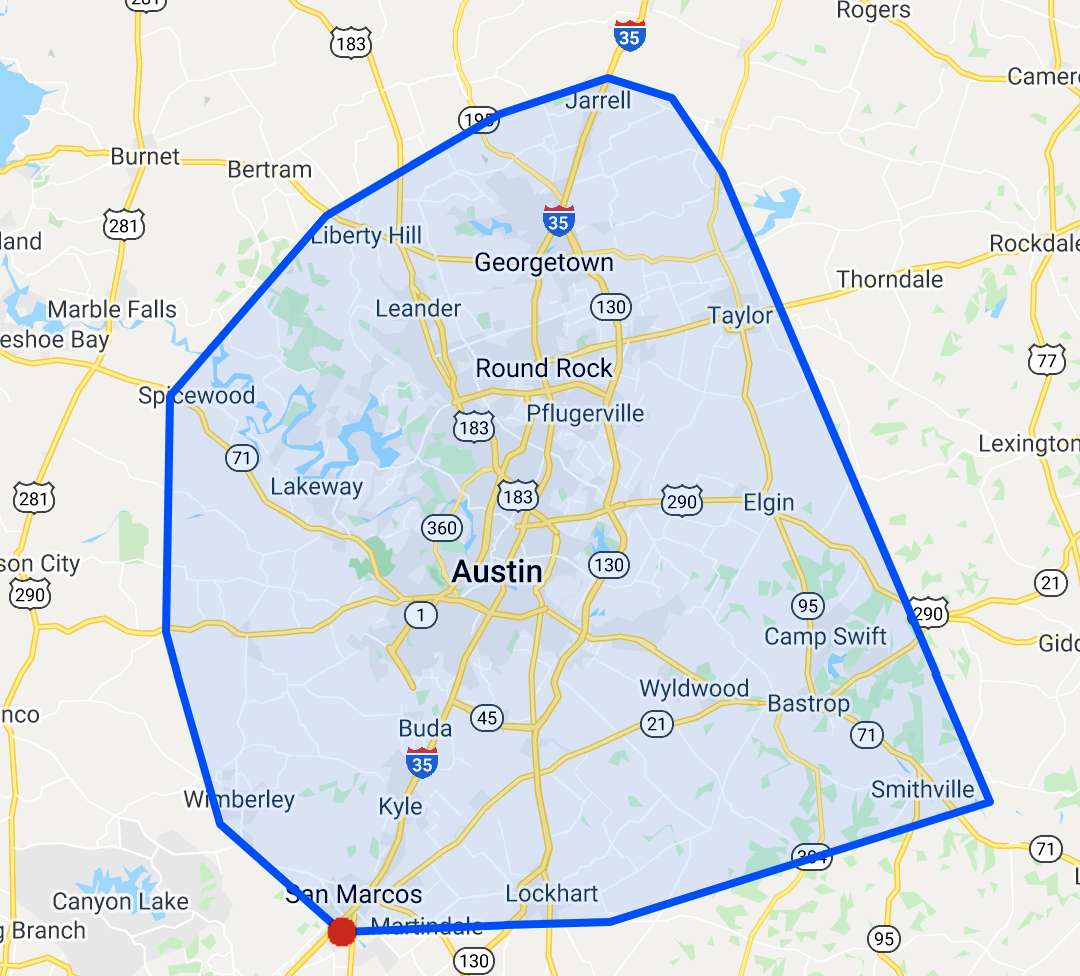 Q: Are real estate flyers included?
A: Yes! We design, print and deliver full-color property flyers as well as install an outdoor flyer box and premium metal for sale yard sign.
To help maximize the desirability of your home, we create a digital document folder. Buyer agents have instant access to the information to share with their clients. What's more the content highlights improvements that you have made to the home as well as important documents that will support the buyer in making their decision to buy your home.
Q: I would like the sale of my home to be smooth and efficient. What else do you offer?
A: Excellent question. We also offer intelligent seller tools. If you have ever filled out a Seller's Disclosure Notice, you know how daunting and time consuming that task can be. With my flat fee MLS listing service, you will have access to an easy-to-use online interactive legal wizard and instructional video on how to properly complete the seller's disclosure forms. This easy-to-understand wizard provides you with straightforward guidance, legal tips, definitions of terms, and highlights key areas throughout the disclosure forms saving you time and effort.
Q: Do I need to pay a 3% buyer's agent commission?
A: This is an interesting question. According to our independent research of the 2019 MLS sold data for the Austin real estate market, a 2.5% vs. 3% buyer agent commission did not significantly affect average days on market.
Our flat fee listing, starting at $2,995, does not include a buyer's agent commission. If a buyer purchases your property and is represented by a real estate broker that broker will need to be compensated. A buyer's agent commission is calculated by multiplying the commission percentage by the property purchase price. For example, a $300,000 sales price with a 2.5% buyer's agent commission would equal $7,500 using this formula: (purchase price)(commission%)=total buyer's agent commission. If you would like to offer a 3% buyer agent commission, that's up to you. The buyer's agent commission fee is negotiable and we will discuss that fee upfront, before we go on MLS, so there are no surprises.
Q: If a buyer, without an agent, wants to see my house who shows it to them?
A: Buyers who do not have an agent representing them are promptly contacted the same day by myself or my team of Buyer Specialists to schedule a time to see the home.
Q: Do you personally visit the house?
A: Absolutely. In fact, I will only list a property for sale after seeing it in person. You will also receive a Comparative Market Analysis (CMA) and professional advice to help guide your list price decision, based on your unique circumstances.
Q: Is an open house included?
A: It makes sense that it may feel like an open house would to be the way to go. I've had several clients who felt the same way. However, what I've found over the years is that open houses rarely sell your home and can actually expose you to liability and risk. For example, unattended people walking through your home could slip or fall and, in rare instances, steal your personal property. The hidden truth about open houses is that they are less about selling YOUR home and often used as a platform for real estate agents to find new home buyers just starting to look or listing the neighbor's house. In short, an agent hosted open house is not included as part of my flat fee MLS service.
On average for 2019, my listings have received an acceptable offer within 17 days on market and successfully sold — all without open houses.
With that being said, you do have the flexibility to host your own open house with my flat fee MLS listing service. Inclusive with the listing service is MLS open house date advertising. What that means is you can host the open house and benefit by our broadcasted open house announcement on popular real estate websites such as Zillow, Trulia, Redfin, Realtor.com among others. To recap, we have never sold a home as a direct result of hosting an open house BUT the possibility is always there and you are welcome to try and we will support you along the way.
Q: Do you use CSS and how does it work for appointments?
A: Great question. We are able to coordinate showings using the centralized showing service (CSS) or through our showing instructions – it's your choice. CSS is an appointment scheduling service that streamlines Realtor property showing appointments. If you are living in the home, you have the control and convenience to approve or decline showing appointments from your phone making it more convenient, while you are at work, play or with your family.
Q: Can I use the photos from the MLS listing?
A: Professional HDR photography is included with the flat fee MLS listing service. However, the images are protected by copyright. You do have the option to purchase an unrestricted license to use the images, after working with us, for $149.
Q: What type of lock box do you use?
A: We deliver and install a Supra iBox electronic keybox. This is the standard lockbox used by the Austin Board of Realtors for real estate listings. A great feature of the Supra electronic keyboxes is that they log and notify us each time the box is opened and provide us with the contact information for that person. We also electronically restrict the door key access times, ensuring that the keybox remains locked during off-showing hours (unlike a less secure combo key box).
Q: I live out of town. How do you handle the paperwork?
A: All client paperwork is taken care of electronically on a seamless and effortless eSignature platform so it's quick and efficient.
See what clients are saying > Meet our team >